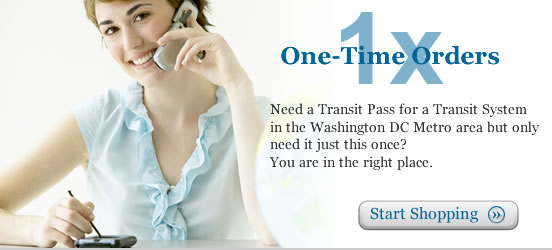 Place a single order for transit tokens, tickets, and passes.
Accounts: All purchases on CommuterDirect.com® require an account. If you already have an account with us, please log in using the form at the top of the page. If you do not have an account with us, please setup an account so you can have access to all the great features available to CommuterDirect.com® customers.
SmartBenefits and Employer Debit/Credit Cards: You are able to pay for your purchase using SmartBenefits or Employer-Sponsored Debit/Credit Cards if your employer provides these transit benefits and you are registered for them. You must have a personal credit card saved in your account to secure a SmartBenefits promise.
Shipping Information: Please note there is a shipping charge on every CommuterDirect.com® order each time an order is shipped. The shipping charge, however, will be waived on MARC, MTA Commuter Bus, or VRE orders shipped under the US First-Class Mail option. Bulk shipping rates are available for one-time orders, the rate is based on product quantity and dollar amount. One-time orders placed before 2:00pm EST on a business day will be shipped same day. One-time orders placed after 2:00pm EST or on a non-business day will ship next business day. For more information about our shipping policies, rates, and carriers please visit our Help & Information System.
One-time Orders for December Tickets: If you are trying to place a onetime order for a December ticket, please note that pass availability is based on the shipping date, and orders that will be shipped before the 11th will be for the current month's (November's) passes. We encourage you to create a recurring order starting for December. Recurring orders will be automatically sent each month provided there is a valid payment method in your account wallet (SmartBenefits, employer-sponsored debit/credit card, credit card, etc.) with no further action required by you.
News...
What 24/7 shutdown will mean for Orange, Silver Line riders in summer 2020
Vienna and Dunn Loring Metro stations could be closed for more than three months next summer. Orange Line trains could run on a single-track at West Falls Church, and Orange and Silver Line trains could pass through East Falls Church without stopping. Read more...
Max Smith, November 12, 2019, WTOP
Did You Know...?
Public transportation saves the United States 4.2 billion gallons of gasoline annually.
- APTA, 2019