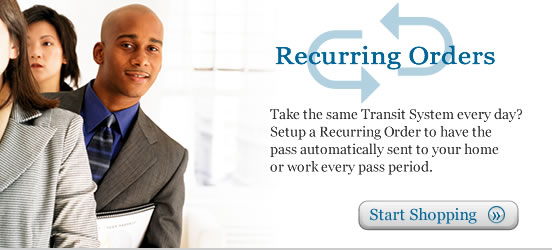 Renewable orders are automatically renewed each calendar month, and shipped to arrive a few days before the beginning of the month. Renewable orders can easily be suspended for one or more months, or cancelled, when your transit needs change.
Ordering: To create a Renewable Order, click on Renewable Orders and select your transit system.

Select your product from the transit system order form.
Choose desired product quantity.
Select the starting month for your order.
Select Start and Destination points, if applicable.
Select Shipping Method.
Select Payment Options.
Click the "Create Renewable Order" button
Repeat this process to create renewable orders for additional products
Once your renewable orders are created, you can edit, suspend, or cancel them from the Renewable Orders section located under My Account.

Accounts: All purchases on CommuterDirect.com® require an account. If you already have an account with us, please log in using the form at the top of the page. If you do not have an account with us, please setup an account so you can have access to all the great features available to CommuterDirect.com® customers.
Fare Vouchers: You are able to pay for your purchase using fare vouchers. To pay for a renewable order with a payment voucher, you must have a credit card saved in your account. If the fare voucher does not cover your total order amount, your credit card will be charged for the remaining balance of your order. Fare vouchers are due within 10 business days of your order. Please fill out the Fare Voucher Mail-In Form, print it out, and send it in with your fare vouchers within 10 business days of your order date. If we don't receive the payment voucher(s) within 10 business days, your order will be charged to your default payment account.
Shipping Information: Please note there is a shipping charge on every CommuterDirect.com® order each time an order is shipped. The shipping charge, however, will be waived on MARC or VRE orders shipped under the US First-Class Mail option. Renewable orders are processed and shipped before the pass period begins, you can expect delivery of your order a few days prior to the beginning of the pass period. For more information about our shipping policies, rates, and carriers please visit our Help & Information System.
One-time Orders for April Tickets:If you are trying to place a onetime order for an April ticket, please note that pass availability is based on the shipping date, and orders that will be shipped before the 11th will be for the current month's (March's) passes. We encourage you to create a renewable order starting for April. Renewable orders will be automatically sent each month provided there is a valid payment method in your account wallet (SmartBenefits, employer sponsored debit card, credit card, etc.) with no further action required by you.
News...
CommuterDirect has discontinued support for old security protocols
Effective February 28, 2018, CommuterDirect.com will comply with tightening security standards by discontinuing support for older data encryption standards, including Transport Layer Security (TLS) versions 1.0 and 1.1. Customers using old versions of operating systems and web browsers may find they can no longer make purchases from CommuterDirect.com. If you get an error message when attempting to connect on or after Feb. 28, try using a different web browser or device. Read more...
February 23, 2018, CommuterDirect.com